8 Ways to Get Sustainable
It's official. Customers WANT more sustainable options when it comes to food, drinks, and generally eating out. With google searches for 'Sustainable' rising by as much as 70% in the last year alone, and the trend for thinking eco-friendly on the rise, NOW is the time to start make sure your restaurant is saving the planet - and get more customers through the door at the same time!
So - what can you do to capitalise on the rising demand for sustainable eats? Here are our 8 top tips to easily and inexpensively make your restaurant more sustainable!
1. Get Smarter About Water
There are plenty of ways to conserve water in your restaurant as part of a goal to become more sustainable - and they don't have to be expensive. Keep it simple - start by checking all your pipes are in working order and you haven't got any leaks! Create and commit to a policy of water conservation and make sure all your staff are aware of it, and aware of the actions they should be taking to reduce water usage in your restaurant. When your appliances need updating, only consider purchasing water-efficient options. Small actions like these make big differences!
If you want to know more about big and little changes you can make to how you use water, make sure you check out Thames Water Utilities at the Restaurant and Takeaway Innovation Expo, where they are exhibiting and speaking on a sustainability panel!
2. Get Energy Efficient
Have you ever considered how operating as a sustainable restaurant could save you a huge amount of money? If you aren't using energy efficient appliances it's likely your energy bill is WAY higher than it needs to be - so get sustainable and save money!
Not sure where to start? Changing appliances can feel overwhelming - but there are plenty of suppliers on the Sustainability Trail at our Show in November who can offer you support! Why not check out who's on the trail to see the businesses who are dedicated to making you more energy efficient - our exhibitors Nieco are celebrating 50 years of energy-saving broiling automation this year!
It's not just appliances you need to think about either - have you thought about who is supplying your energy? Independent energy providers like Carbon 2018 take sustainability seriously - so if your energy supplier doesn't, it might be time to start looking!
3. Reduce Food Waste
According to research by WRAP, UK restaurants alone produce nearly 200K tonnes of food waste each year - and it's costing the industry money! Across the whole restaurant industry, £682 million is lost ANNUALLY in dealing with food waste. It's time to stop wasting food and watch your bottom line expand!
But how can you reduce your food waste? You might start by thinking about tracking how much you're wasting. AI startup Winnow Vision has recently trialled a specialist bin with IKEA aimed to help with this exact issue! Designed to detect and record what types of food are being thrown, this smart bin can help the person responsible for ordering goods to see where they might be over-ordering.
Ofcourse, you don't need a smart bin to help you reduce waste. Simple changes can make big differences - so if you want to reduce your food-waste double check you are storing food correctly, make sure all your food is labelled correctly, practice perfect stock rotation - and of course, make sure you are keeping an accurate food inventory!
4. Think Local!
The rising trend for consumers who want to eat local is undeniable - and reduced travelling time for your raw ingredients not only means it is more sustainable: it will taste better too!
So how can you benefit from the eating local trend? Get talking to local producers! Head to a farmers' market in your region to see who's got what you need, and to start a discussion about working together! Alternatively, organisations like ethical edibles are dedicated to distributing wholesome, sustainable products which are sourced from small producers. If you are serious about serving local, or you just want to know more, make sure you speak to these guys on the Sustainability Trail this November; afterall, they've already done all the hard work sourcing for you!
5. Give them the whole package!
Just because you want to run a sustainable restaurant, it doesn't mean you should reduce your customer offering! People who want to eat sustainably still want to order-in - so find a way to use delivery and packing methods which have a limited impact on the environment.
The Sustainability Trail at the Restaurant and Takeaway Innovation Expo has brought together the UK's best and most diverse range of Eco-Packaging tools, which will enable you to choose the perfect option for your business. Find out more about the range of suppliers here!
6. Grow Sustainably
Offering a sustainable experience for your customers WILL lead to business growth. Growing a business can be tricky when you are committed to operating sustainably. So what can you do?
Lay the base-work for sustainability early-on in your operations, and then commit to choosing eco-friendly options wherever you can, even as your business grows in size and profitability.
7. Get Certified
Once you have ensured that you are operating sustainably, you want to shout about it! Make your restaurant stand apart from your competitors by getting officially accredited as a sustainable place to eat - and then watch as more and more customers start coming in!
Want to know more about what it takes to get certified? Check out the Sustainable Restaurant Association - with a pledge to help hospitality fix food, their rating system for the UK's most sustainable restaurants could provide your business with a boost!
8. Go Carbon-Free

Your customers want to have a guilt-free meal - so why not give them the opportunity to off-set their carbon footprint? Our partners Carbon Free Dining run an amazing programme that - at no fee to the restaurant - enables customers to change the world when they pay the bill!
Intrigued? Find out more about Carbon Free Dining and our other industry partners here!
Updated: 16/05/19
NEXT READ: Sustainable Cups Get A Makeover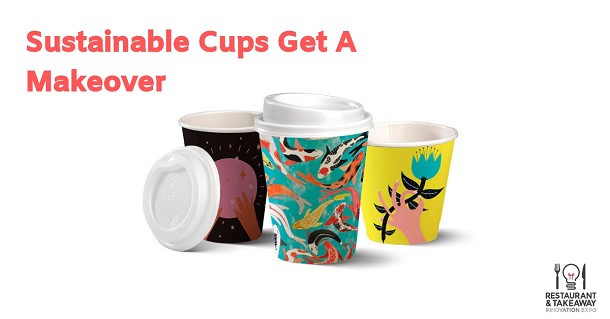 Are you serious about making your restaurant more sustainable? Be sure to check out the Sustainability Trail at the Restaurant and Takeaway Innovation Expo this November to meet the experts!